As of Tuesday, November 03, 2020, the Deutsches Bergbau-Museum Bochum is temporarily closed for visitors. The museum is thus following the measures taken by the federal and state governments to contain the corona pandemic. Information on the resumption of visitor operations will be provided on a daily basis in accordance with the relevant ordinances.
Get more information
In luftigen Höhen: Das Fördergerüst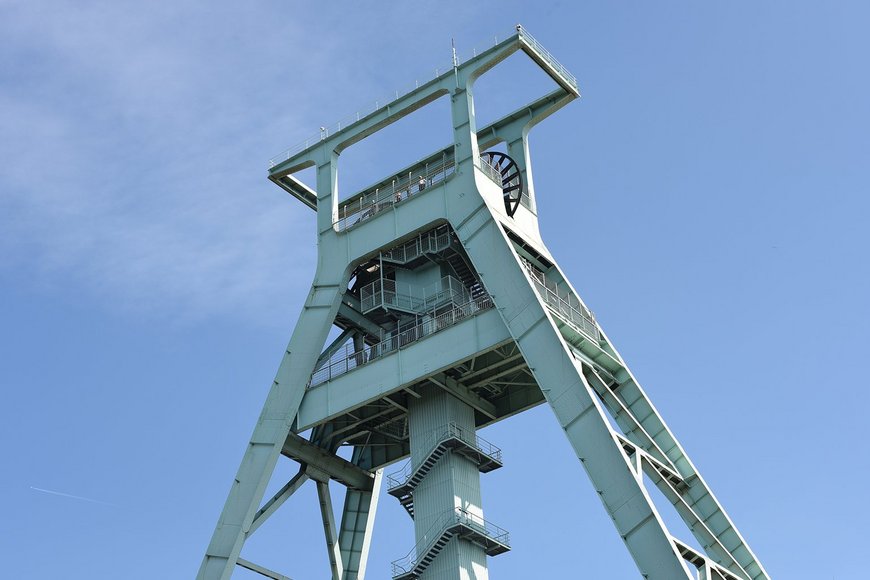 Es ist erst seit 1973 in Bochum und gehört doch zum Stadtbild wie kaum ein anderes Element: Das Fördergerüst der ehemaligen Zeche Germania in Dortmund-Marten. Unser vierter und letzter Film entführt in luftige Höhen und bietet Anblicke und Ausblicke von dem größten Sammlungsobjekt des Deutschen Bergbau-Museums Bochum.

Das Fördergerüst
Von den renommierten Industriearchitekten Fritz Schupp und Martin Kremmer entworfen, galt es seinerzeit mit einem Gewicht von 650 t, einer Höhe von 71,4 m und einem Durchmesser der Seilscheiben von 8 m als das größte Fördergerüst der Welt. 1971 wurde es nach der Stilllegung der Schachtanlage Germania in Einzelteile zerlegt und mit Spezialtransportern nach Bochum gebracht.
So gelangte es als größtes Objekt in unserer Sammlungsbestände und bietet bis heute von seiner Aussichtsplattform in über 60 m Höhe einen beeindruckenden Blick über die Metropole Ruhr. Ein Besuch im Deutschen Bergbau-Museum Bochum ohne Turmfahrt? Geht gar nicht!
2020 haben wir uns entschlossen, die Farben unseres Wahrzeichens in das Logo des Deutschen Bergbau-Museums Bochum aufzunehmen. Fördergerüst und Seilscheibe sind seitdem im übertragenen Sinn Bestandteile unseres Corporate Designs.
Unterstützt wurde die Produktion mit Mitteln des Aktionsplans für Leibniz-Forschungsmuseen.
Umsetzung & Realisierung, Drohne, Ton & Musik: One Shot HERO
Zu unserem Video auf YouTube geht es hier: