The Deutsches Bergbau-Museum Bochum has opened its doors again. We observe the current legal requirements and hygiene standards. Please register in advance for all guided tours: by telephone on +49 234 5877-126 or by e-mail to service@bergbaumuseum.de (Tue. to Fri. from 9:00 am to 3:00 pm).
Get more information ...
Gestaltung: Julica Bracht
It is the declared objective of the Deutsches Bergbau-Museum Bochum to create a sustainable framework to strategically pursue gender equality, so as to establish the basis for achieving equal job opportunities between women and men. The Deutsches Bergbau-Museum Bochum is aware that the career paths of women and men, especially in science and academia, still vary widely, and that each are presented with different challenges. The careers of women frequently come to a halt at lower levels of the hierarchy or become stalled in critical career phases due to periods of parental leave. It is for this reason that the Deutsches Bergbau-Museum Bochum wants to create a family-friendly and equal opportunities-based institutional culture for everyone, and, in particular, to provide additional support to its female employees in the development of their careers.
Since the creation of the Equal Opportunities Officer post in 2004, the Deutsches Bergbau-Museum Bochum has been closely engaged with the question of how to encourage and assist women of whatever status group, to achieve gender equality. The Deutsches Bergbau-Museum Bochum endeavours to continuously increase the proportion of female managers and employees in all areas in which women are under-represented, through suitable recruitment and personnel development measures, and through targeted support for female employees. An equal opportunities plan was drafted for this purpose, and is regularly assessed and updated.
In the implementation of its measures and initiatives, the Deutsches Bergbau-Museum Bochum acts in accordance with the Charter of Equality of its host organisation, the DMT-LB GmbH, and with the equal opportunities of the Leibniz Association and the Research-Oriented Standards on Gender Equality of the Deutsche Forschungsgemeinschaft (German Research Association). The focus here is not just on reconciling work and family life, but also on supporting the development and career opportunities for all employees.
The Deutsches Bergbau-Museum Bochum has made sustained progress in advancing gender equality and equal opportunities in the workplace for women and men. We know that equality and equal opportunities cannot be achieved by merely implementing individual measures, but instead involves a continuous process. We therefore repeatedly document and assess the current situation, identify the risks and opportunities for equality and develop a strategy that encompasses all genders and which is designed to meet the needs of all employees. The Deutsches Bergbau-Museum Bochum has held Total-e-Quality certification since 2012, and a second re-certification is pending in April 2018. In 2017, the Deutsches Bergbau-Museum Bochum joined "Dual-Career Netzwerk Ruhr" (a network initiative), meaning that it also focuses on the life situation of spouses and partners.
The Deutsches Bergbau-Museum Bochum has ring-fenced an equality budget enabling measures to be implemented and allowing the Equal Opportunities Officer to actively attend continuous training events and regional and supra-regional meetings of the network.
The Equal Opportunities Officer and her deputy
The Equal Opportunities Officer and her deputy are points of contact for all employees of the Deutsches Bergbau-Museum Bochum, and are always available to provide information or for a face-to-face meeting. They also advise and support the directors of the institution in all matters concerning equality and equal opportunities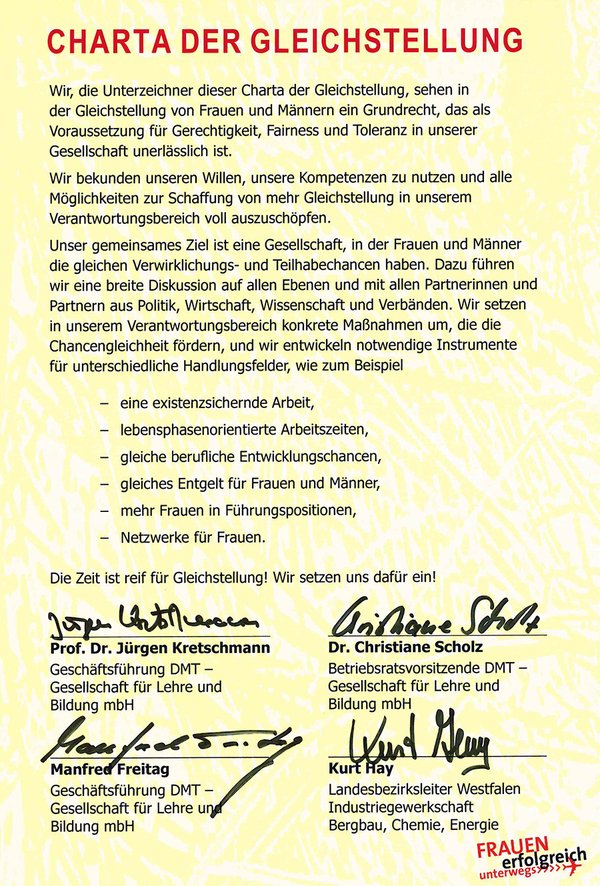 Leibniz Association
The Deutsches Bergbau-Museum Bochum is a research museum belonging to the Leibniz Association, which regards equality and equal opportunities for women and men in science and academia as a key objective. For this reason, in 2008 the Leibniz Association made the promotion of gender equality an integral part of its constitution. It employs various instruments to support the institute in its efforts to realise this objective.
Leibniz Association: Equal opportunities and diversity
The Deutsches Bergbau-Museum Bochum encourages and supports its scientists and academics to advance their careers in the various formats offered by the Leibniz Association. In particular, every year the Deutsches Bergbau-Museum Bochum supports the application and participation by female scientists and academics in the Mentoring Programme organised by the Leibniz Association, and, after its completion, to become active in the network of alumni