Museum pedagogical offers
Kindergartens & Schools
Foto: Helena Grebe
We offer a special programme for kindergartens and schools. Apart from the guided tours through the visitor's mine and our new tours, kindergarten and schoolchildren up to year one in secondary school, can enjoy our participative activities and experience mining-related themes at first hand.
A fee is charged for guided tours arranged for kindergartens and school classes. Two adult companions per 20 children may enter free of charge. These guided tours may also be arranged in English or French on request, subject to availability and a supplementary charge.
Visitors must register in advance for guided tours and special activities. Please contact our Visitor Services using the telephone number +49 234 5877-126, or send an email to service@bergbaumuseum.de (Tues. to Fri. between 9:00 am and 3:00 pm).
We want to continue to offer our visitors and everyone in front of and behind the scenes who makes a visit to the museum possible a high level of safety. This is only possible if we look out for each other and our workforce is complete on board. Since the visit to the Deutsches Bergbau-Museum Bochum, with its tower tour and exhibition mine, offers experiences where it is still important to observe protective and hygienic measures, we are pleased if our visitors continue to wear a medical mask. In addition, please follow current AHA rules.
Due to current circumstances, program changes or cancellations may occur at short notice. Therefore, please inform yourself on our homepage about the currently valid Corona protection requirements for guided tours and events. You are also welcome to contact our visitor service by telephone during opening hours (Tues. to Sun. between 9:30 a.m. and 5:30 p.m.) at +49 234 5877-126.
Guided tours through the vistor's mine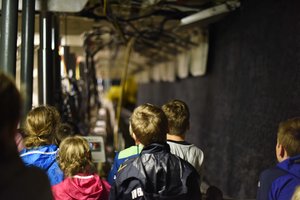 The cost for guided tours for school classes through our visitor's mine is €40.00 plus admission. Two adult companions per 20 pupils may enter free of charge.
Subject to availability, guided tours for school classes can be arranged in English or French. These cost €60 per class plus admission.
Please read our notices.
Keine Ansprechpartner gefunden