As of Tuesday, November 03, 2020, the Deutsches Bergbau-Museum Bochum is temporarily closed for visitors. The museum is thus following the measures taken by the federal and state governments to contain the corona pandemic. Information on the resumption of visitor operations will be provided on a daily basis in accordance with the relevant ordinances.
Get more information
11. BIS 12. Februar 2016
VDI-JahresTagung 2016
Objektgeschichte(n)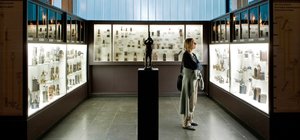 Am 11 und 12. Februar 2016 findet die Technikgeschichtliche Jahrestagung 2016, veranstaltet vom VDI-Ausschuss Technikgeschichte, im Deutschen Bergbau-Museum Bochum statt.
Objekte sind in der Technikgeschichte sowohl als Untersuchungsgegenstand als auch als sachliche Quellen inzwischen ein zentraler Referenzpunkt geworden. Nicht nur in Technikmuseen faszinieren trotz Einsatz moderner digitaler Präsentationsformen Objekte durch ihre Materialität und Dinglichkeit. Die Spuren des Gebrauchs und exemplarische Anschaulichkeit machen diese Exponate zu Trägern authentischer Geschichte.
Jenseits der "Massendinghaltung" in Museen und Sammlungen (so ein selbstironisches Bonmot aus der Archäologie) sind einzelne Objekte oder Objektgruppen inzwischen Ausgangspunkt für methodisch vielschichtige historische Perspektiven, die die Beziehung der Menschen zu den von ihnen geschaffenen Artefakten thematisieren.
Die technikgeschichtliche Jahrestagung lädt ein zu diskutieren, welche Potenziale eine objektorientierte Technikgeschichtsschreibung hat und welche thematischen und methodischen Grenzen ihr gesetzt sind. Dabei soll erstens der aktuelle Forschungsstand von "Objektgeschichte(n)" in der Technikgeschichte reflektiert werden, indem nach Umgang, Wahrnehmung und Materialität von Objekten in der Vergangenheit gefragt wird; zweitens sollen aktuelle Theorien, Methoden und Konzepte der objektzentrierten Forschung im Hinblick auf ihre Anwendbarkeit in der Technikgeschichtsschreibung kritisch diskutiert werden.