As of Tuesday, November 03, 2020, the Deutsches Bergbau-Museum Bochum is temporarily closed for visitors. The museum is thus following the measures taken by the federal and state governments to contain the corona pandemic. Information on the resumption of visitor operations will be provided on a daily basis in accordance with the relevant ordinances.
Get more information
15. BIS 16. Februar 2018
VDI-Jahrestagung 2018
Speichern – Zur Geschichte einer Grundfunktion der Technik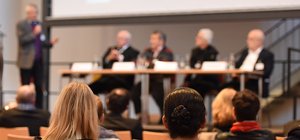 Speichertechniken sind in vielen gesellschaftlichen Handlungsfeldern, wie z.B. Produktion, Handel, Alltag und Kultur zu finden. Die VDI-Jahrestagung Technikgeschichte fragt insbesondere nach der historischen Entwicklung und Nutzung unterschiedlicher Speichertechniken sowie nach deren zeitlichen, sozio-kulturellen und ökonomischen Bezügen.
Die VDI-Tagung Technikgeschichte 2018 bietet Raum für vielfältige technikhistorische Perspektiven, die sich mit der Geschichte der Speicherung von Materie, Energie und Information beschäftigen. Speichern erfüllt zudem wichtige kulturelle Funktionen. Schreiben und Malen können z.B. als frühe basale Kulturtechniken des Speicherns aufgefasst werden. Historisch entstehen daraus analoge und digitale mediale Techniken des Speicherns, wie z.B. Bücher, Filmrollen, Schallplatten, Magnetbänder, Festplatten, USB-Sticks usw. Von besonderer kultureller Bedeutung sind zudem Institutionen, die Medien und deren Inhalte langfristig aufbewahren: Bibliotheken, Archive und Museen sind solche kollektiven Speicherorte des materiellen und kulturellen Wissens sowie der individuellen und kollektiven Erinnerung.