As of Tuesday, November 03, 2020, the Deutsches Bergbau-Museum Bochum is temporarily closed for visitors. The museum is thus following the measures taken by the federal and state governments to contain the corona pandemic. Information on the resumption of visitor operations will be provided on a daily basis in accordance with the relevant ordinances.
Get more information
05.–07. DECEMBER 2019
International Conference
Material Cultures of Mining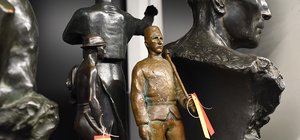 From 5th to 7th December 2019 the Montanhistorische Dokumentationszentrum (montan.dok) will be hosting the "Materielle Kulturen des Bergbaus | Material Cultures of Mining" international conference at the Deutsches Bergbau-Museum Bochum
The mission of this conference is to methodically reflect on new approaches to Material Culture Studies and apply these to the recent history of mining.
Chaired panels featuring national and international speakers will engage with a range of object categories: objects of knowledge (natural resources and models), technical objects, everyday objects from various periods, objects of memory in the light of the "museumisation" aspect, and based on case studies taken from the museum management practice. Talks will be delivered in German or English.
Aside from mining historians, we are also particularly seeking to attract historians of technology and science as well as contemporary historians, museologists and archaeologists as well as representatives of mining collections.
The conference is organised as part of the "montan.dok 21. Archival appraisal, consulting expertise and central service provider for German mining heritage" Project. Project and conference are funded by the RAG-Stiftung.
Programme
Thursday 05. December
01:00 pm

Registration & Coffee

02:00 pm – 02:30 pm

Welcome & Greetings
Heike Humpf, RAG-Stiftung
Prof. Dr. Stefan Brüggerhoff, Deutsches Bergbau-Museum Bochum

02:30 pm – 03:30 pm


Dr. Michael Farrenkopf, Deutsches Bergbau-Museum Bochum/montan.dok: Run auf die Objekte!? Das gemeinsame Erforschen und Sammeln von Bergbauobjekten zwischen Plädoyer und Praxis


Dr. Stefan Siemer, Deutsches Bergbau-Museum Bochum/montan.dok: Mining History in the material turn. Some preliminary thoughts

03:30 pm – 04:00 pm

Coffee break

04:00 pm – 05:00 pm

Objects of Knowledge I (Models)

Moderation: Dr. Stefan Przigoda, Deutsches Bergbau-Museum Bochum/montan.dok


Dr. Andreas Benz, TU Bergakademie Freiberg: Museologische Arbeit mit Objekten an der TU Bergakademie Freiberg am Beispiel der Historischen Bergbau- und Hüttenmodelle


Dr. Swen Steinberg, Queen's University: Mine Model Collections of American Mining Schools as Spaces of Knowledge Circulation between the Local and the Global

05:30 pm

Guided Tour in the Visitors Mine by the Department of Mining Technology/Mine Operations

07:00 pm

freie Abendgestaltung
Friday 06. December
08:00 am

Registration & Coffee

08:30 am – 10:00 am

Panel II: Objects of Knowledge II (Natural Resources)

Moderation: Dr. Stefan Przigoda, Deutsches Bergbau-Museum Bochum/montan.dok


Ulrike Stottrop, Essen: Mineralien und Fossilien als Wissensträger und Sammlungsobjekte
Dr. Nora Thorade, TU Darmstadt: Steinkohle. Rohstoff als Objekt


Dr. Jennifer Garner, Deutsches Bergbau-Museum Bochum/Forschungsbereich Montanarchäologie: Neue Forschungen zur keltischen Eisentechnologie im Siegerland – Von der Archäologie zum Experiment

10:00 am – 10:15 am

Coffee break

10:15 am – 11:45 am

Panel III: Technical Objects I

Moderation: Dr. Michael Farrenkopf, Deutsches Bergbau-Museum Bochum/montan.dok


Prof. Dr. Helmuth Albrecht, TU Bergakademie Freiberg: Mobil versus In Situ? Artefakte als historische Quelle in der Industriearchäologie


Dr. Torsten Meyer, Deutsches Bergbau-Museum Bochum/montan.dok: Das "Besucherbergwerk F60" in Lichterfeld-Schacksdorf (Brandenburg). Überlegungen zur "technischen Eigenzeit", dem "Nachleben der Technik" und dem Wandel des Objektstatus


Dr. Stefan Siemer, Deutsches Bergbau-Museum Bochum/montan.dok: Mining safety in a nutshell: The filter self-rescuer, Dräger model 623

11:45 am – 12:45 pm

Lunch

01:00 pm – 02:30 pm

Panel IV: Technical Objects II

Moderation: Dr. Stefan Siemer, Deutsches Bergbau-Museum Bochum/montan.dok


Alain Forti, Bois de Cazier: Le Bois du Cazier, du chaos d'une catastrophe à la mémoire d'un savoir-faire technique et humain (in französischer Sprache mit Simultanübersetzung)


PD Dr. Hubert Weitensfelder, Technisches Museum Wien: Sammeln, zeigen, forschen: Das Thema "Bergbau" im Technischen Museum Wien (TMW)


Norbert Tempel, LWL-Industriemuseum, Westfälisches Landesmuseum für Industriekultur: Mythos Malakowturm

02:30 pm – 02:45 pm

Coffee break

01:00 pm – 02:30 pm

Panel V: Everyday Objects I (from various Periods)

Moderation: Dr. Andreas Ludwig, Zentrum für Zeithistorische Forschung Potsdam


Prof. Dr. Thomas Stöllner, Ruhr-Universität Bochum/Deutsches Bergbau-Museum Bochum: Daily life in (pre)historic mines: From materiality discourses to a practical approach


Andrea Riedel, Stadt- und Bergbaumuseum Freiberg: Vom Gnadengroschen zur Rentenformel - Die (historische) Rolle der Sammelbüchse der Freiberger Hüttenknappschaft (1546) im Alltag des Freiberger Reviers


Dr. Attila Tózsa-Rigó, Universität Miskolc: Infrastruktur und Logistik zur Bergbauproduktion in Neusohl in der zweiten Hälfte des 16. Jahrhunderts


Dr. Reinhard Köhler, Baunatal: Das materielle und museal überlieferte Bergbauerbe einer Region ohne kontinuierlich ausgeprägte montanhistorische Tradition am Beispiel des Kellerwaldes in Nordhessen

04:45 pm– 05:00 pm

Coffee break

05:00 pm – 07:00 pm

Panel VI: Everyday Objects II (Case Studies)

Moderation: Dr. Andreas Ludwig, Zentrum für Zeithistorische Forschung Potsdam


Dr. Axel Heimsoth, Ruhr Museum: Kleider machen Bergmänner. Ein Forschungsdesiderat


Heino Neuber, Bergbaumuseum Oelsnitz/Erzgebirge: "Glück auf zur Schicht! Das beste Licht beschütze Dich!" – Wie eine Rübölblende Aspekte des sächsischen Steinkohlenbergbaus beleuchtet


Dietmar Osses, LWL-Industriemuseum, Westfälisches Landesmuseum für Industriekultur, Standort Zeche Hannover: Migrationsgeschichte und kulturelle Vielfalt in Alltagsobjekten des Bergbaus. Materielle Kultur, Narrative und Multiperspektivität


Dr. Hilary Orange, London: Contemporary and integrated archaeology: everyday objects in a mine museum

07:30 pm

Dinner at the DBM +
Afterwards you can visit the new permanent exhibition
Saturday 07. December
08:30 am – 10:00 am

Panel VII: Objects of Memory I (Museumisation)

Moderation: Prof. Dr. Stefan Goch, Museum für Geschichte des Landes NRW


Dr. Johannes Großewinkelmann, Weltkulturerbe Erzbergwerk Rammelsberg: "Ich denke gerne an die Zeit zurück!" – Die Erinnerungskultur ehemaliger Bergleute des Erzbergwerkes Rammelsberg anhand von Objekten aus privaten Nachlässen


Amy Benadiba, Centre historique minier, Lewarde: Behind each object, the memory of someone: collect information to justify the collection


Nicola Moss & David Bell, National Mining Museum Scotland: Under the Banner of Mining

10:00 am – 10:15 am

Coffee break

10:15 am – 11:15 am

Panel VIII: Objects of Memory II (Case Studies 1)

Moderation: Prof. Dr. Stefan Goch, Museum für Geschichte des Landes NRW


Dr. Beata Piecha-van Schagen, Muzeum Górnictwa Węglowego w Zabrzu: 19th and 20th Century St. Barbara Altars as Cursed Heritage


Dr. Maria Schäpers, Deutsches Bergbau-Museum Bochum/montan.dok & Anissa Finzi, Ruhr Museum: Die Schutzpatronin der Bergleute im Ruhrgebiet: Förderung der Barbaraverehrung und Sammlungsobjekt im Deutschen Bergbau-Museum Bochum

11:15 am – 11:30 am

Coffee break

11:30 am – 01:00 pm

Panel IX: Objects of Memory III (Case Studies 2)

Moderation: Prof. Dr. Stefan Goch, Museum für Geschichte des Landes NRW


Konrad Gutkowski, LWL-Industriemuseum Westfälisches Landesmuseum für Industriekultur: Sounds sammeln, dokumentieren, bewahren: Bergbauklänge im EU-Projekt Sounds of Changes


Lisa Weißmann, LWL-Industriemuseum, Westfälisches Landesmuseum für Industriekultur, Standort Zeche Hannover: Knappenbrief, Grubenlampe und die Heilige Barbara – Objekte einer branchenbezogenen Erinnerungskultur


Anna-Magdalena Heide & Maren Vossenkuhl, Deutsches Bergbau-Museum Bochum/montan.dok: Zum Gedenken? Porträts berühmter Bergleute

01:00 pm – 01:30 pm

Conclusion & closing words